WSTA Industry Summit 2020
»Date: 15th September 2020, 11:00 am - 17th September 2020, 4:30 pm
»Venue: Digital Conference
»Open to: Trade and press, non-members welcome
»Who should attend: Everyone! This is a "big-picture-thinking" event where topics and discussion will provide insights into the future of the industry and aims to spur fresh ideas for our audience members
---
An opportunity for businesses to come together to discuss key industry topics and find the "blue-sky-thinking" space they need!
Since the start of the Coronavirus pandemic, we've been uncertain if we would be able to return to the British Library to host the WSTA Industry Summit this year. With the health and wellbeing of our attendees of utmost concern, we took the decision in June not to return to the British Library and instead to host the full programme virtually!
But moving to a virtual platform is not the only change this year. Hosting this year's Industry Summit virtually as a series of smaller events provided a fantastic opportunity for the WSTA to develop an agenda that caters for a broader range of Industry businesses and their interests.
We've also switched up the ticketing structure with an unburdensome, straightforward one-size-fits-all approach…
One ticket at £50+vat per member company
Or, one ticket at £150+vat per non-member company
= Unlimited number of attendees per company
Yep, just a single ticket gets every employee access to this year's summit!
How does registration work?
1. Purchase the WSTA member or non-member ticket through the booking link above.
2. Once the transaction is complete, you will receive two emails – an Eventbrite confirmation, including a tax invoice; and an email from jessica@wsta.co.uk containing registration information and template email.
3. Forward the registration email and information to all your employees, who will then able to access the Session booking page and register for each session.
4. Employees must register using a company email address for authentication purposes.
5. We will be releasing more details about each session and speakers over the next few weeks. Employees can manage their booking and register/ unregister from sessions via their unique registration link from Eventbrite.
Haven't been to a WSTA Industry Summit before?
Obviously, this year will be different to previous years but if you haven't yet attended a WSTA Industry Summit, this video from 2019 will help set the tone…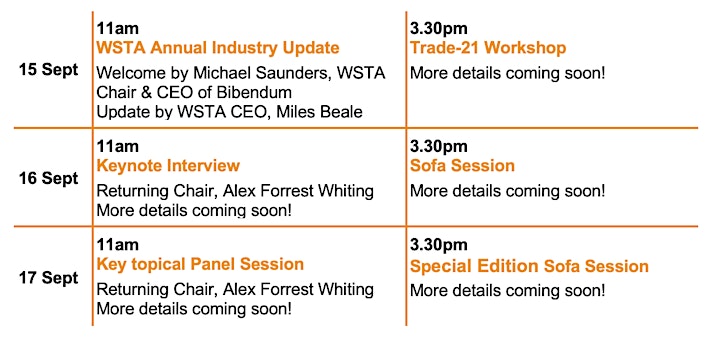 Companies below are attending this year's Summit. Not on the list? Purchase a company ticket using the link above.
| | | |
| --- | --- | --- |
| Accolade Wines | | |
| Laurent-Perrier | | |
| RT Wine Solutions | | |
| Wine Australia | | |
| | | |
| | | |
| | | |
| | | |
| | | |
| | | |